Natural Born World Shaker
Creative Director / Design Principal / Partner at 513
From an early age, Tom realized that the best way for him to express his innermost self to the world was through the creation of things. Born and raised in New York City, Tom attended prestigious arts programs, Stuyvesant High School and then went on to NYU's Tisch School of the Arts where he received a BFA in Production Design for Theater & Film along with a BS in Sociology. After graduation, Tom sharpened his skills with some of New York City's top Broadway designers and at design firms experimenting with cutting-edge design practices in scenic design, environmental design & graphic design. Tom has created internationally recognized and award-winning designs for televised large scale live events, award shows, concerts, talk shows, music & comedy specials, broadcast studios & immersive environments. His clarity of vision, innovative spirit, sense of wit and willingness to work through the most precious of design processes with a smile has made him a prized asset to countless productions and a respected Partner at the firm. In his personal time, Tom enjoys extensive travel throughout the United States and the World, hiking, biking, skiing, gardening, photography, fishing, playing guitar, reading, sailing and scuba diving.
Tom's spirit animal is the elephant.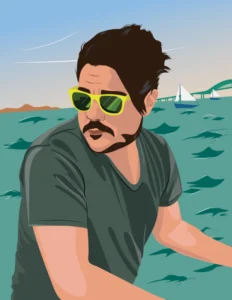 What gets you excited about being a set designer?
It's exciting to me because, on a daily basis, I get to be an active part of the enlightening exchange of thoughts, opinions and ideas that is the cultural conversation.
What attributes do you think one needs to possess to be a successful set designer?
To be a successful Production Designer one must have a compendium of visual ideas catalogued in their minds and be ready to have conversations about all and any of them at a moment's notice. They also must have a great deal of patience with their clients, collaborators and those working with them so that the joy of collaboration with all of them can fully be experienced. Being able to quickly visualize concepts for others must come as second nature.
What was your first job in the business?
My first job in the business was working in scene shops in NYC during my summers in High School. My first professional job as a designer was Art Directing for Showtime at the Apollo where we created our own scenery for the band performances.
Now that you've been in the business for a bit, what was your biggest misconception about set design?
My biggest misconception was that I would get to spend all day in my studio making self indulgent artwork and that it would be totally fabulous.
What's the biggest change you've seen in the business since you broke in?
The biggest change I have seen is the role of LED screens and projection and how integral video has become to the Production Designers' process.
Do you have any advice for the up and coming set design students out there?
Cherish all of your relationships, but make sure to nurture the relationships that allow you to keep you creating.
What is your guilty pleasure?
A dry martini with a blue cheese olive.
We've worked on dozens of projects together, what do you come to expect when Showman is building something you've designed?
After 20 years now when I work with Showman, I have come to expect that there are always solutions to the problems, there is always great communication and the final product is very thought out, well crafted and always excellent.