Become An Intern.
Unleash your potential where growth, new ideas, and creativity are infinite.
SHAPING THE FUTURE
ShowFab is dedicated to nurturing and training the next generation of entertainment industry professionals, providing them with a transformative journey towards a rewarding and fulfilling career.
Through our comprehensive internships, we offer aspiring individuals the opportunity to gain hands-on experience in various crucial areas of a large-scale specialty fabrication shop. From project management to production management, technical design, CNC, metal fabrication, carpentry, scenic painting, automation & electrics, and graphics, our internships cover a wide range of disciplines. We believe in providing a well-rounded learning experience, allowing interns to develop their skills and expertise across multiple facets of the entertainment industry. By immersing themselves in real-world projects and collaborating with experienced professionals, our interns receive invaluable mentorship and practical knowledge, preparing them for a successful future in the field. ShowFab is committed to empowering the next generation and equipping them with the tools necessary to thrive in a dynamic and ever-evolving industry.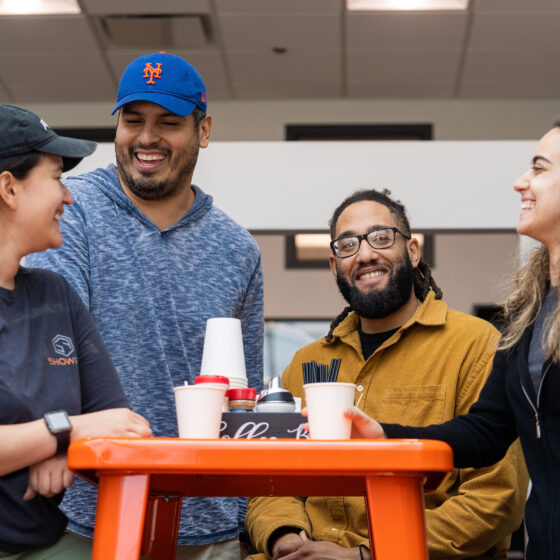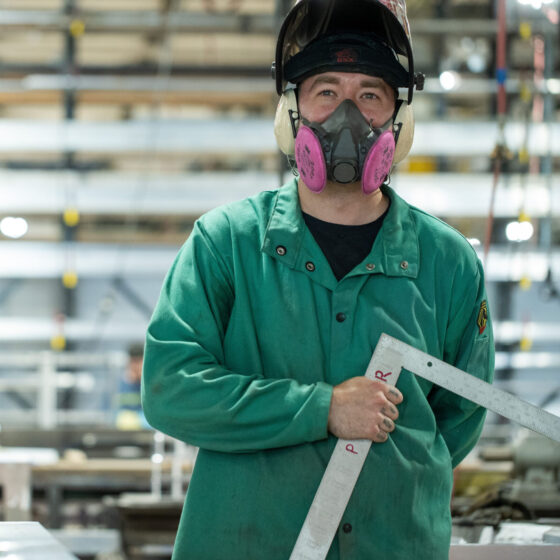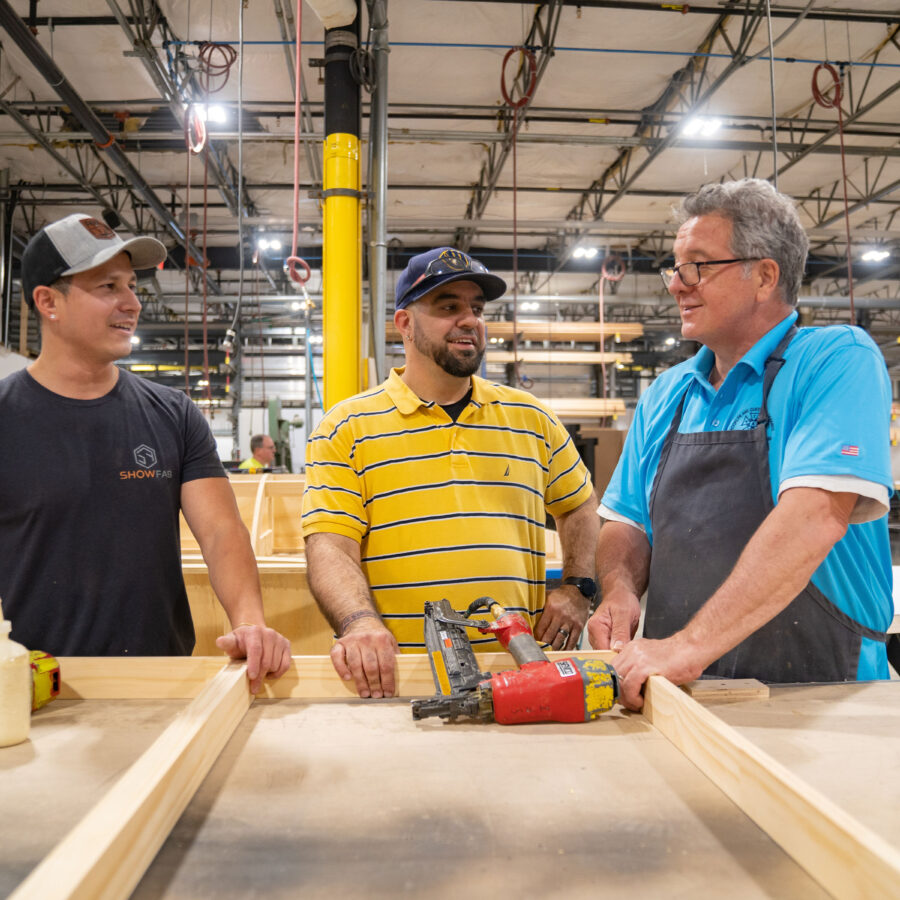 Apply Today
Learn more about our available internships and start your journey towards a fulfilling career.
Click to learn more…
The Project Management and Sales teams work hand in hand. The primary responsibilities of the sales team are client acquisition, client servicing, estimating, value engineering, award negotiation, and ultimately "closing the deal". Once a project is awarded the Project Management team takes ownership, it is ultimately the Project Manager's responsibility to be sure the project is delivered on budget and on schedule while meeting all the clients' expectations determined in the estimating process. The PM / Sales team is the link between Client and Production. They are involved with a project from the first call through installation and typically beyond.

Project Management & Sales Internship Objective:

As a PM / Sales Intern you will learn by working alongside Account Executives, Project Managers, and Project Coordinator's in the completion of their duties. A typical day may include developing an estimate for a potential theatrical project, reviewing build drawing, developing material take-offs, placing orders, developing a build / install schedule, attending in shop and on-site meetings, checking in with vendors & subcontractors, developing load lists, arranging shipping, etc.

The primary responsibility of the Production Management team is to shepherd each project throughout the production process. This includes tasking and supervising artists across multiple departments (CNC, Metal, Carpentry, Scenic, Automation and Electrics, Graphics, Shipping and Receiving) and projects on a day to day basis and ensuring that they deliver on time and on budget.

Production Management Internship Objective:

As a Production Management Intern you would be working alongside the Director of Production, Production Coordinator, and Department Supervisors. Day to day production duties could include attending production meetings, sourcing, and ordering material, and helping facilitate interdepartmental scheduling and communication. Operational duties could include shipping and receiving logistics, tracking inventories, booking site crews, and assisting in developing and maintaining operational procedures.

The members of the Technical Design team play an integral role in the realization of our projects. Every member of the TD team works to ensure that all needs of the design are met, whether artistic, structural, mechanical, or beyond. Our team uses a wide array of software to meet client needs and support our production team by developing everything from pre-visualization models to highly technical construction documentation that supports our skilled craftsmen. Our TDs also aid in file prep and programming across many platforms for our state-of-the-art CNC machines. From the earliest stages of conceptual design during the bidding process to installation, our TD team helps our clients' vision become reality.

Technical Design Internship Objective:

The Technical Design intern assists our TD team in the production of 3d models, construction drawings, and CNC files while also developing skills in commonly used software such as Autodesk Inventor, AutoCAD, and more. A Technical Design internship at ShowFab gives an introduction into the many stages of development of a project in a large shop setting and shows an intern what a day in the life of a TD in our industry can be.

The CNC department utilizes automated machines to cut a variety of materials used in our production processes. Innovative manufacturing solutions are used to achieve non-traditional construction techniques that are unique to Showfab. We have 7 cnc machines giving us the ability to cut wood, foam, acrylic, mild steel, aluminum, stainless steel, brass, glass, almost any material. Our newest machine is a combination laser sheet and tube cutter manufactured by BLM. We also have an Omax waterjet, an MCT graphics cutter, 2 routers and a foam hot wire and milling machine.

CNC Internship Objective:

The CNC department intern will shadow a CNC operator for a good portion of their time as an intern. They will gain an overview of how to operate and program all our machines. We can tailor the program to the candidates specific interests. The candidate will also learn how to create cuttable geometry in CAD/CAM software. The program can increase one's knowledge of machinery capabilities as they relate to scenery and prepare one for an entry level job as a machine operator.

The primary responsibilities of the Metal Shop are to oversee and carry out production needs that require steel or aluminum as the fabrication materials. Because our clients represent several aspects of the entertainment and custom fabrication industry there is a considerable range to the output of Metal Shop projects. These projects can range from supportive skeletal structures for Broadway scenery to 5th Ave Window displays. Our experienced team of fabricators are capable of executing our clients visions through the application of a wide variety of metal fabrication skills. Some of these skills include but not limited to Welding ( MIG/TIG of Aluminum and steel alloys), Machining, Roll Forming and Air Bending.

Metal Shop Internship Objective:

An internship in the metal shop will begin by focusing on shop safety, and material identification. Subsequently you will be immersed in all aspects of a project from reading technical drawings, developing, and performing cutists, and laying out materials using tape measures and precision measuring instruments. Depending on the length of your internship you will also have the opportunity to dive deeper into the principles of GMAW welding, machine operation and maintenance, and wire and gas selection. Rounding out your experience will be an introduction in to aid bending, press brake operation, and aluminum fabrication.

The primary responsibility of the Carpentry Shop is to fabricate all aspects of a project that are built from wood. Typical materials we work with include stick goods (1×3, 5/4X4, 2×4) and sheet goods including plywood, MDF, laminates acrylics, and other plastics. The various markets we work in also expose our carpenters to working with glass, solid surface materials (Granite, Quartz, Corian) as well. Working hand in hand with the Tech Design team our carpenters work to realize simple and complex wood structures. Carpenters with all departments including Steel Shop, Paint Shop and Electric Shop to coordinate integration and completion. A typical workflow might include building directly off drawings, cladding steel/aluminum units, building lightboxes, finishing scenery with laminates or prepping for paint and set up of the scenery to facilitate the installation in the studio.

Carpentry Shop Internship Objective:

The Carpentry Shop Intern will work with one of our Lead Carpenters to learn the process of fabricating a set from reading blueprints, as we receive them, for building to wrapping those pieces and getting them on a truck to be delivered on-site. Safely learn how to use a wide range of power tools, sliding bed table saws, and machines to facilitate the finishing process of building scenery. We want you to have as much experience as you can immersing yourself into the world of building scenery.

The scenic shop creates and executes all paint treatments for a project and could include back painting, solid colors, stains and faux finishes. Our process starts by collaborating with Project Management and Technical Design to determine the best path forward as it relates to material choices. Once pieces are in fabrication, we work with the various departments to coordinate workflow. A typical path of a scenic element through our shop would start in our back paint booth where it will be sprayed with paint that has FR additive for fireproofing purposes and / or sprayed with a DTM paint to prevent rust from forming on metal pieces. An important part of our process is the prep to get the pieces scenic ready for their final finish – this could include patching, sanding, and priming. Once properly prepared we will execute the appropriate finishes in line with samples that we have done which have been approved by the client. We also have an automotive spray booth in our space that allows us to paint items that need high resistance to scratching, weather, or would normally be difficult to paint with a traditional water based product.

Scenic Internship Objective:

A Scenic Intern can expect to learn a multitude of different techniques and skills from our team. You'll work alongside the Scenic Charge, Assistant Charge and other Scenic Artists to go over safe handling of typical products, using HPLV and 3M spray tools, processes of prepping and painting different materials, color mixing and creating different faux finishes. We'll show you how we interpret an image from the designer or client to create a concise and repeatable process to last the duration of a project and the best way to adjust to meet the needs of onsite notes and touch ups. We'll also go over other scenic skills such as foam carving and coating, gold leafing, basic drop techniques and more! Scenic Art has so many ways to do things, but we'll help you round out your skills and find the best way for you to continue to grow.

The primary responsibility of the Automation and Electrics team is to help support in the bidding and execution of automated and electrified effects for various projects. Members of the Auto/LX team may find themselves researching the latest technologies, designing machinery and electrical circuits, fabricating control cabinets or custom machinery, and integrating LED products into the various environments we fabricate for.

Automation and Electrics Internship Objective:

The Automation and Electrics Internship tries to balance the theoretical and practical aspects of production. As part of your internship, you will be studying electrical and mechanical theory which is the foundation of all the things we do. Production tasks you will perform include wire preparation and labeling, harness fabrication, dimmer and control panel construction, installation and soldering of LED products.

The primary responsibility of the Graphics Department is to help support in the bidding and execution of all printed projects for various jobs. Members of the Graphics team may find themselves researching the latest vinyl and overlaminate technologies to provide a look and lasting quality that aligns with customer's expectations, designing and mocking graphics to conform to the guidelines of printed media, applying vinyl or direct printing to precut substrates, going out of office for the application of said printed artwork, and finding new and innovative ways to make each print stand out in the real world.

Graphics Internship Objective:

The Graphics Internship tries to balance the theoretical and practical aspects of large-scale printing. As part of your internship, you will learn about the human aspect of various forms of printing, as well as the machines which perform these prints. Production tasks you will perform include; weeding cut vinyl, file preparation, the lamination process, substrate preparation, latex and resin print operation, vinyl installation, and the basics of the bidding process. The goal is for every intern to understand the printing process from conception to production.